59th (Staffordshire) Infantry Division NW Europe
Formation
The layout below outlines the 59th Infantry Division formation in NW Europe 1944. The 3 Brigades were designated as a Senior, Second (Middle) and Junior Brigade and each contained 3 Regimental Battalions.


27 June 1944 - 20 August 1944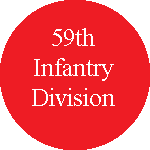 Relevant insignia is available both individually and as sets. Please click on appropriate box.