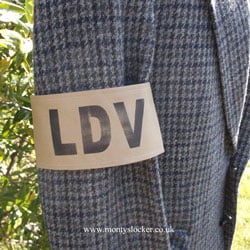 LDV (Local Defence Volunteers) was formed mid May 1940.
Uniform supplies would have been almost non-existent at this time.
If you have no uniform and want to portray early wartime you can just purchase the LDV armband - pictured left and wear this over a civilian jacket or coat.
Although regulations stated this was to be stitched securely to the sleeve this would not have been practical in most cases particularly on civilian clothing - we therefore supply the armband with buttons and buttonholes. (If you prefer to stitch this on then just email us and we can supply this without buttons/buttonholes)
Our armbands are a khaki cloth with printed letters - there are many examples of original LDV armbands with printing in a variety of styles. We handprint these so there will always be a slight variation in these.
The patch or the armband?
You can choose either. The patch would be worn as described opposite but the armband is obviously the easiest - just button it on and then it can be removed easily.
The idea of the patch, for reasons of economy, saved wasting any LDV armbands already issued by covering the letters with the "new" name Home Guard and also didn't use as much cloth as an armband would require.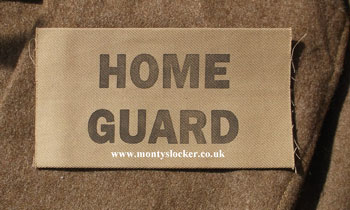 I want to portray Home Guard, what do I need?
End of July 1940 saw the introduction of the Home Guard (taking over from the LDV).
A new armband was issued saying simply "Home Guard",(please note however, some never actually got issued with this - some were issued with LDV only and continued to wear this and some were issued with the Home Guard patch (see below). Supplies of everything were scarce at this time and priority was always given to regular troops).
Original photographs illustrate the Home Guard patch (pictured left) being worn in 2 ways;
1. Stitched onto the LDV armband to cover the letters LDV thus converting this to a Home Guard armband.
2. Simply stitched to the sleeve of the uniform.
Home Guard Armband (see right)
If you were fortunate to be issued with this it could be worn over both civilian clothing (uniforms were still in short supply) or over a uniform.
These continued in use until the issue of shoulder titles and distinguishing marks (below). Regulations were promulgated July 1941 and would have taken time for supplies to feed through the system.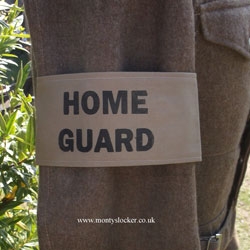 The issue of the shoulder titles and distinguishing marks assumed all uniform supplies had been fulfilled by July 1941. These were for stitching onto the uniform and (we can send an insignia layout with your order if you are unsure) examples of both printed and embroidered are in existence. We produce the embroidered version on a wool cloth.
Please note: District letters and battalion numbers were issued as two separate badges and NOT as one complete patch. CP 1 which was used in the popular television series 'Dad's Army' was not an actual unit - it was produced purely for the programme. As such we do not offer these for sale.
We sell all individually or you can purchase as a set for 15.
If you click on any of the photos on this page this will take you to the individual product pages where you are able to purchase.
Just a final word about rank.
Initially following the introduction of the LDV and early Home Guard the rank structure underwent a number of changes. However, for the mainpart 1941 saw this being standardised with that of the regular army.
If you require Officer rank pips or crowns you will need to select General Service. These are the khaki backed version. Home Guard did not wear coloured backed rank.
The above is intended as a brief guide only. As is always the case there are always exceptions to the wearing of armbands, insignia etc. Furthermore, the above information is only applicable to men - although during 1943/44 there were indeed female Home Guard Auxiliaries they had no official uniform.